Brunette Delivers a Chip Supply System to Smithers, BC
Date: October 12, 2021
Brunette Machinery has been a premium supplier to the forest industry for over 75 years, specializing in wood processing and material handling systems. Our products are ideal for lumber, panel board, pulp/paper, and renewable energy industries and include chippers, hogs, log sweeps, conveyors, debarkers, Log Singulators®, butt reducers, and other wood processing and log handling equipment.
But we don't just sell chippers and hogs! Our sales team collaborates with our customers to provide complete wood processing systems that are designed to suit their needs. From a single machine to a complete plant system, our products meet the highest standards, are easy to implement and provide true benefits.
Our latest project involved just such a plan. Our customer, a producer of industrial wood pellets, needed to expand their pellet mill facility due to increased global demand for sustainable wood bioenergy.
Our proposal was to provide them with a complete Brunette Chip Supply System, designed to maximize yield and profitability. This turnkey project includes process planning, equipment, start-up, and after-sales services. The main targets for this system are to increase uptime and capacity, improve chip quality, minimize energy consumption, and maximize raw material yield.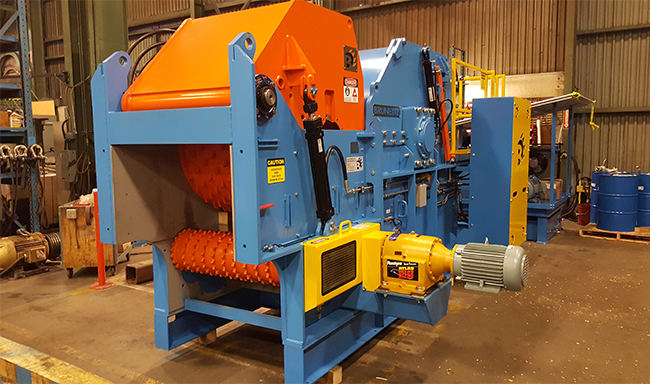 Our custom-designed chip supply system will provide our customer with all the elements they need to convert whole logs into microchips as the first step of producing wood pellets for biomass fuel. From the scaffolding and maintenance platforms that house the log deck, to the conveyors and the chipper, they will have the benefit of dealing with one supplier for the entire project. Not only will this increase output, but it will also save on maintenance costs.
This Brunette Chip Supply System includes:
Brunette Whole Log 'Micro' Chipper
Chipper Infeed Chain Conveyor
Refuse Conveyor
Refuse Conveyor Chuting
Chipper and Infeed System Support Structure c/w Catwalks
Custom Flow Control Gate
Chipper Outfeed Chuting
Chipper Outfeed Chain Conveyor
Chipper Outfeed Belt Conveyor
Outfeed Conveyor Supports c/w Maintenance Access Platform
20ft Container c/w install of HPU and Hydraulic Plumbing Design
Engineering, and Project Management
After inspection and testing, the components of the chipper system were loaded onto 12 trucks and delivered to our customer in Northern BC. Our work will continue as, Brunette Machinery will be involved with the start-up and commissioning of this system.
Brunette Machinery supplies extreme-duty machinery and complete chipper systems that meet the highest performance and reliability criteria. Our innovative machines are designed to handle the toughest conditions and can process any wood or waste wood product.
Our extensive experience ensures our products are built for longevity with low maintenance costs. Our robust R&D program gives our customers a competitive edge in fast-changing global economy. We pride ourselves on our excellent customer service and live by our corporate values.
For more information on our company and our products, visit our Equipment or Parts and Service pages or call us at 1.800.686.6679.